Yesterday evening
ODM
swiftly retracted their promise to cease 'mass action' and have now announced a new round of rallies to take place at the end of this week (beginning Thursday). Causing chaos seems to the best way to continue exerting pressure on the government to move forward on the issue of the flawed election. Once more, we have to pin our hopes on the arrival of an outsider,
Kofi
Annan
on Tuesday to diffuse or delay further rioting. It did seem suspicious that the former UN head was suddenly struck down with flu whilst in the car on the way to the airport to fly to Kenya last
tuesday
, but who am I to say?
Vice President
Kalonzo
Musyoka
hopes that Kenya can sort out this crisis without help from outside and has been nominated as the head of a committee, put together by
Kibaki
to facilitate dialogue, but
Raila
Odinga
has already discredited this team and refuses to speak to the Government without an impartial mediator. Louis Michel, European Union commissioner for Development was playing his part in mediation yesterday hoping to encourage dialogue between the two leaders.
Just to clarify the main players in the quagmire of Kenyan politics, in case of any confusion: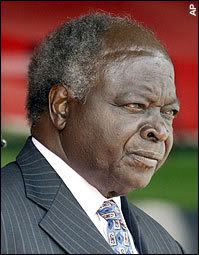 PNU
(Party of National Unity) - This is the party currently in power headed by the President
Mwai
Kibaki

, 76
('referred to as
Kibaki
').
Kibaki
has been President of Kenya for 5 years already.
PNU
were accused of shamelessly rigging the 27
th
Dec election when early figures indicated that the opposition might be in the lead.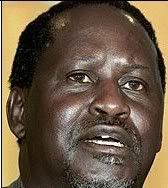 ODM
(Orange Democratic Movement) - Main opposition party who believe that the election was snatched from their hands and they they were the true winners.
Raila
Odinga, 63
, the party leader (referred to as '
Raila
') therefore refuses to recognise
Kibaki
as Kenya's President. Though he lost the presidential election, his party did win a large majority of seats in Parliament making him a strong opponent.
ODM
have also been accused of rigging election results to ensure voting went in their favour.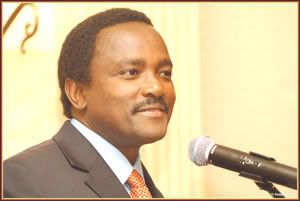 ODM
- K (Orange Democratic Movement - Kenya) - the third party who were perceived to have had a chance to win the election, lead by
Kalonzo
Musyoka, 54
(referred to as '
Kalonzo
'). In the event, he soon dropped out of the running for President as he won far fewer votes than his two main rivals. Since the election results were announced, President
Kibaki
appointed
Kalonzo
Vice President (the previous vice president lost his seat in Parliament). He is now attempting to act as peace maker in this crisis but has lost his impartiality by accepting the post of vice Presidency.
Raila
has; 'described
Kalonzo
as incompetent and least qualified to negotiate with
ODM
' (quote: The Sunday Standard - 20
th
Jan 2008)
There are many other political parties in Kenya of course, but the above three were the main contenders in the December election. It is worth noting that all three parties are also relatively new, with
MPs
switching
allegiance
and forming groups before the election campaign began, in order to garner the most votes. This means that party policies are not necessarily very clear and loyalty within parties cannot be guaranteed.