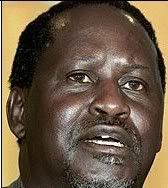 ODM
(Orange Democratic Movement) - Main opposition party who believe that the election was snatched from their hands and they they were the true winners.
Raila
Odinga, 63
, the party leader (referred to as '
Raila
') therefore refuses to recognise
Kibaki
as Kenya's President. Though he lost the presidential election, his party did win a large majority of seats in Parliament making him a strong opponent.
ODM
have also been accused of rigging election results to ensure voting went in their favour.