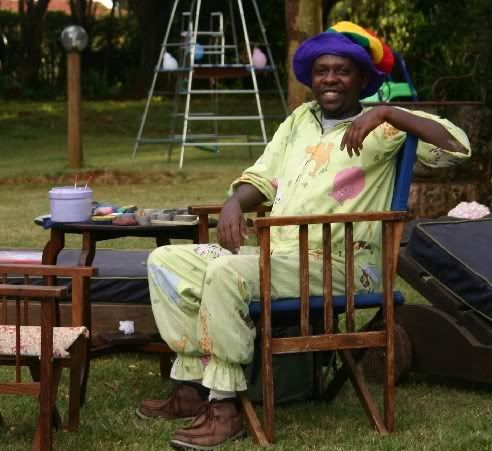 As an antidote to my rather negative expat stereotypes (which some people seem to be finding a bit too much) – so I thought I'd start a new theme to run in parallel called: 'Local Heroes'.

My first local hero to choose would be 'Souljah' (pronounced Soldier) our friendly leader of a team of children's entertainers and acrobats named 'Salto Jamboree'. He will supply a bouncy castle (or two), face painter and magic show at the drop of a hat (or a quick mobile phone call) – in fact the acrobatic routine is legendary and they are seen at almost every party or function you go to in this area. Souljah holds private 'acrobatic' classes for overly energetic young kids if requested and, Oh yes, the guys do fire eating too!

The kids love Souljah's magic show, even though they have seen the same tricks 1,000 times and his black velvet embroidered outfit is a sight to behold. The 'Salto Jamboree' face painter is the best in town and creates masterpieces on the faces and arms of our little preciousness that take hours to remove at bath time (top tip: you need to use eye makeup remover). He and his guys have saved my bacon on many occasions. I know that hiring entertainers is a classic parents dodge for providing any kind of amusement for thirty 'sugar rush' kids, but I heartily recommend it! I also owe so much to the 'Bamboola' man who runs in circles around the bouncy castle dressed in a clown suit, chased by screaming kids. He is a highlight of every party and the kids try to whip off his hat and he reprimands them gently when they begin to get out of hand.

'We are going to X's birthday party this afternoon' I tell my kids;
'Will the Bamboola man be there?' they shrill. At the end of each party they run back to their parents brandishing Souljah's business card with contact details:
'This is for you to KEEP Mummy!'

We once hired Souljah and his friends to do their famous drumming and fire eating display at an adult drinks party we were hosting at home in the middle of the Kenyan drought a couple of years ago. Their hoops of fire kept falling onto the 'tinder box' dry grass of our lawn and the routine was a little more chaotic than usual as the players tumbled and did hand-springs about with flames flying in the darkness – they certainly set the party off with a bang. I was wondering if they whole place might catch like a bush fire, so watched with heart in mouth as scorch marks kept appearing on the ground. The rather less than accurate stunts might have been explained by a friend (new in town) who commented during the proceedings:
'Who was that guy with dreadlocks standing in your drive smoking a joint earlier? We wondered what kind of party this was going to be?'

It's a joy to see Souljah in his shiny red 4x4, entrepreneur that he is and wish him many years of success to come. Thanks for being our expat housewives hero, numero uno!